The BMCS Department within Bogaert Transmission specializes in upgrading pasteurization tunnels, heating and cooling systems.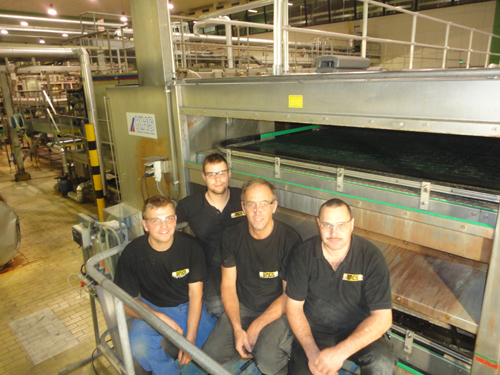 Dozens of horizontal single or double-decker pasteurization tunnels have been converted, upgraded or repaired. This for customers in both the beverage, vegetables, fruit and canning industry.
Reference List
Niko pasteurization tunnel: conversion of a double strand mat to a modular conveyor chain.
KHS double-deck pasteurisation tunnel: conversion of a Intralox mat series 400 to Rexnord mat type SR2000USP.
Time limit: 5 working days for installation of 4 x 44m mat 2.450 mm wide
Simonazzi double-deck tunnel pasteurisator: replacing Rexnord mat by improved SRP2000 USP mat.

Sander Hansen double-deck pasteurisation tunnel: replacing slide strips by higher-grade Murtfeldt sliding guides.
This in a time frame of 24 Hr (Saturday 20.00 Hr to Sunday 20: 00 Hr)
AAM warmer: replacing worn out wheels with splittable wheel pairs on a wire link belt.
Other examples